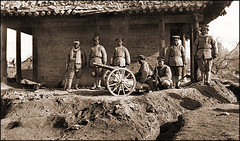 Discover what happened this week in history
"I Want to Hold Your Hand" by the Beatles becomes the  No.1 Single in the Billboard Hot 100 in 1964.
Late Night with David Letterman premieres on NBC February 1, 1982.
Michael Jackson

, Tina Turner, Bob Dylan and many other superstars finish tracks for "We Are the World" on Jan. 28, 1985. The project,  which was suggested by singer-activist Harry Belafonte, raised over $60 million for African famine relief.
 Soap opera General Hospital debuted  heart throb actor Jack Wagner as Frisco Jones in 1984. Many will always remember Frisco for his song "All I need."
Sadly, in 1986 all seven of the United States space shuttle Challenger crew were killed shortly after takeoff.
GM- General Motors  reported the biggest profit of any United States company in history in 1965.
In 1958 Brooklyn Dodgers Roy Campanella was injured in a serious auto accident and would never return to play again.
"Barnaby Jones" debuted on CBS- TV.

Barnaby Jones is a television detective series starring Buddy Ebsen and Lee Meriwether as a father and daughter-in-law who run a private detective firm in Los Angeles.  source: 

Wikipedia

 In 1950 a loaf of bread was  $0.14 cents
Sources: wiki.answers.com, AARP, Ask.com