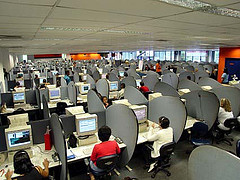 Telemarketing Sales Rule
Stop telemarketers! How many times have you been angered by answering the telephone only to find that it is a telemarketer? The FTC (Federal Trade Commission's) Sales Rule lets customers be in charge of the number of telemarketing calls they can get at their residence. A consumer may reduce the number of undesired telemarketing calls he or she may get.
Stop Telemarketers
A consumer may register their number for free. There are a few ways to put your number on the National Do Not Call Registry. If you have a email you can go to donotcall.gov. If you would prefer to call to register you must be sure to be calling from the number you wish to register. You can call toll free 1-888- 382-1222 (TTY: 1-866-290-4236).  There are certain calls that are still permitted to make contact. These calls would be from political organizations, charities and telephone surveyors. They are restricted to calling between the hours of 8 a.m. and 9 p.m. They must identify themselves and disclose all information about the goods or services they are offering.
How does the National Do Not Call Registry Work?
The following is taken directly from the Federal Trade Commission. The law requires telemarketers to search the registry every 31 days and avoid calling any telephone numbers that are listed on the registry. If a consumer does get a telemarketing call after you have registered and it has been in the registry for 31 days, you can file a complaint at donotcall.gov or by calling 1-888-382-1222 (TTY:1-866-290-4236). Upon doing this please have the date of the call and the company's name or phone number. A telemarketer who disregards the National Do Not Call Registry could be fined up to $16,000 for each call.
Protect yourself
Protect yourself from unauthorized billing. In any situation over the phone a telemarketer must get your consent to charge a specific account. Telemarketers are required to transmit their telephone number and if possible their name to your caller ID service. In any situation if you feel unsure of a business transaction consult with a family member or some one of help to you as your Care Staff from Loving Hearts Home Care. No deal is too good for either end to not be available the next day! Protect yourself!
Sources:
For more information refer to the Federal Trade Commission
You can also call 1-877-FTC-HELP  ( 1-877-382-4351
photo credit:vlima.com via photopin cc
[facebook_ilike]