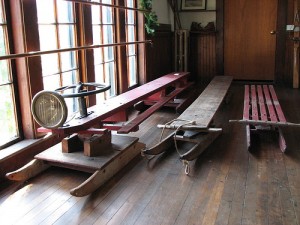 Who built the first toboggan sled? The Russians in the late 1800's.
80 mph is the top speed a modern bobsled can handle.
With the exception of the year 1960, bobsledding has been a sport in the Olympics.
What's in a name? The term sled comes from early competitors that "bobbed" their heads-thinking that this would make the sled go faster. That was not true!
In the 1800's in Canada tobogganing was thought to be a high fashion sport. Ladies would wear their best clothing that they owned  and men would wear their fancy top hats.
Tying seniors and sled riding together
Some seniors enjoy watching children and adults sled ride. Our staff here at Loving Hearts Home Care can offer transportation to make this community inclusion event possible. There are many areas in the Erie Area to watch snow sledding in the comfort and heat of a vehicle!  A few local areas that are well known for sled riding are at Penn State Behrend, Frontier Park, North East High School, and West Lake Middle School.
*Click here for more interesting facts you may not know about sledding.
Credits: www.mentalfloss.com
[facebook_ilike]
photo credit: origamidon via photopin cc